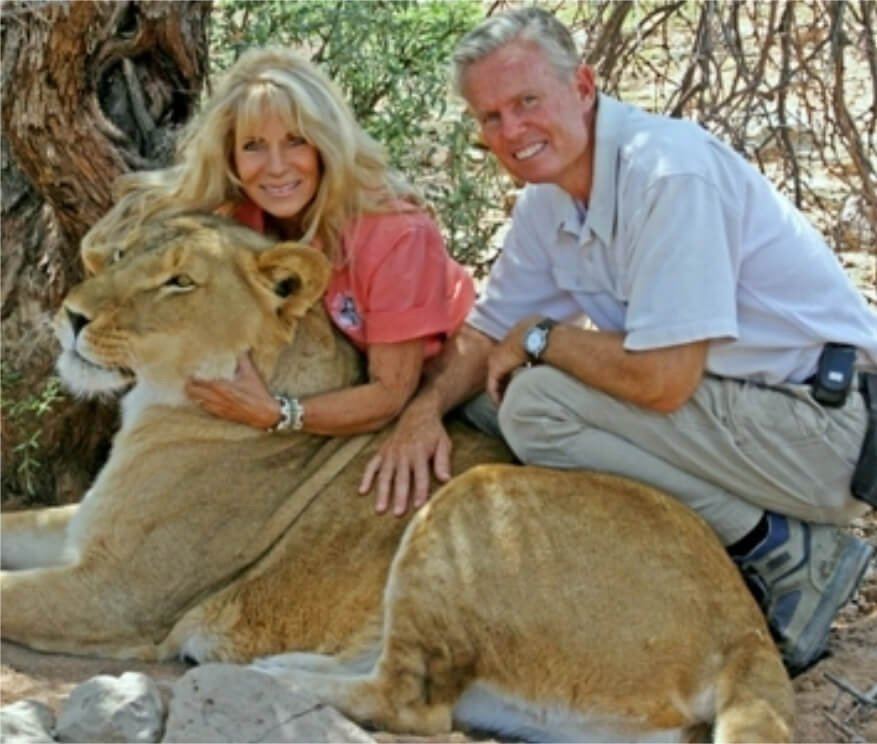 Meet The Founders
Dean and Prayeri Harrison
Founded OOA: 1988
In 1988, Dean and Prayeri Harrison founded Out of Africa Wildlife Park, a preserve born from their single-minded objective of bringing God, people, and animals together in a natural setting. Married in 1980, neither of them could predict what adventures would unfold when they first met. Dean began learning to interpret animal behavior from his reptile friends during his childhood, while Prayeri shared a fascination with an assortment of a cat, dog, and bird pets that she grew up with. This deep-rooted fascination of the animal world was the underpinning of what would one day become a 104-acre wildlife preserve featuring hundreds of exotic animals, a location filled with serenity and adventure.
It all began in Southern California when Dean and Prayeri welcomed a baby African leopard named Saja into their hearts and home, sharing everything from their bed, their food, and their life. In return, this wild and survival-oriented creature provided them the priceless experience of understanding life from a wild animal's point of view, and in so doing, created a companionship between human and animal.
Saja had revealed what was to become their calling, illuminating for others the connectedness between human and animal spirituality. As Saja grew, so did her need for companionship with other similar creatures, thus directing the Harrisons to gradually add other big, exotic cats to their family, including a tiger, a cougar, and a lion, all of whom were raised from cubs.
This necessitated a move to an adequate, fully integrated, human/animal abode where the animals could freely roam their outdoor habitats or chose to spend time with Dean and Prayeri inside their home. It was that decision that led them to Oregon.
To some, co-existing with the wildest of large land predators may seem foolish, yet it was necessary to do things in a non-traditional, non-cultured way, to genuinely look from the predator's eyes as they learned from them and fulfilled their needs. Dean and Prayeri refrained from standard procedures used in circuses or zoos, equally out of respect and love for the animals as their research goals. There would be no whip or chair routine, and the boredom of a zoo setting had to be replaced with purpose and relationships. The lessons learned and the satisfaction received have been more than worth it, as evidenced in the spirit of Out of Africa Wildlife Park today.
During this time the Harrisons became known for their beautiful animals and meticulous care of them, and they opened their home and facility to the public, calling it Tigerville, USA. But, the Harrisons wanted to live in Arizona, so they eventually moved to the Phoenix area where the original Out of Africa Wildlife Park was formed in Fountain Hills in 1988. After 16 years, the park was moved 90 minutes north to a much larger property in the high desert foothills of the Mingus Mountains in Camp Verde, AZ. As the park grew, from 16 acres to 104, so did the diversity and number of its residents as well as the size of the habitats so crucial to their stimulation and enrichment. Opened to the public in May of 2005, the vegetation and overall feel of the wildlife park bears a striking resemblance to many parts of Africa, even now as animals from across the globe call it home.
Dean and Prayeri's knowledge and understanding of animal behavior and instinct have intensified with each new "global" resident. They've become experienced in preventive veterinary care, learning best practices in contemporary allopathic thinking as well as in the more esoteric options available in holistic medicine. They also have extensive experience in evaluating and collaborating on medical treatment and assisting at surgeries for injuries and illness.
Dean and Prayeri have traveled to Africa many times on photo safari tours. This experience has imbued in them an overwhelming physical and spiritual sense of "home" and of being one with all of life. Furthermore, these trips have helped them construct authentic habitats, enabling visitors to the park to get a sense of an authentic Africa. Providing others with the opportunity to awaken to this concept has become their greatest pleasure. Every day, this concept of oneness is illustrated with unsurpassed majesty.
It's been over 30 years since their grand experiment began. The enthusiasm Dean and Prayeri have displayed for more than 30 years now continue to this very day. They have made it their life's calling to share what they have learned by demonstrating these unique relationships to the public while playing a role in the preservation of exotic animals, many of which are threatened today.
Today, the Harrisons live on the grounds of the park year round, so they can be close to the animals in their charge. Out of Africa Wildlife Park has gained much esteem as a highly respected wildlife park for its unique approach that allows its residents to thrive and flourish through spacious habitats, preservation, rehabilitation, education, research, and public interaction.
From the beginning, Dean and Prayeri wanted to know the big cats on a personal basis. They desired harmony and peace between the animals and themselves, and they found it. Ever since then, their lives have been dedicated to the hope that you will find it as well.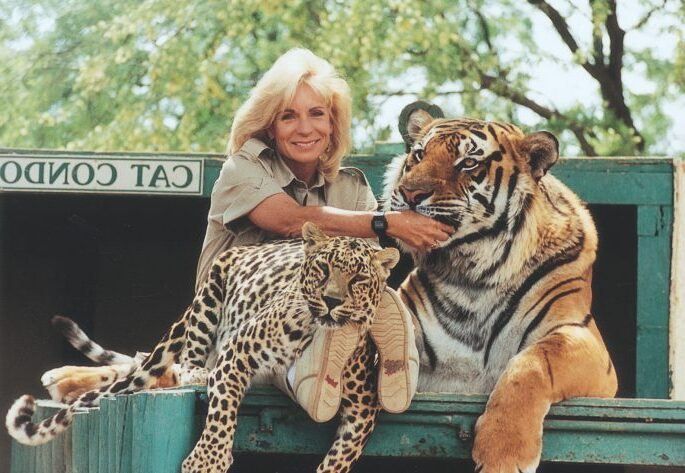 Our Mission
The mission of Out of Africa Wildlife Park is to create the ultimate animal adventure for all ages, one steeped in fun, immersed in learning, and inspired by a living and colorful world of astonishing wildlife. We strive to foster an appreciation of our planet's wild areas and wondrous inhabitants by supporting and promoting conservation awareness and action, practicing exemplary animal care, providing education and learning experiences, and establishing broad community support, through a peaceful and interactive relationships.
See Videos of The Park
Meet Zarah the Bengal Tiger
Commitment to sustain & conserve
Conservation is an integral component of Out of Africa Wildlife Park's ongoing mission to preserve, protect, and provide for the animals, both in our care and abroad.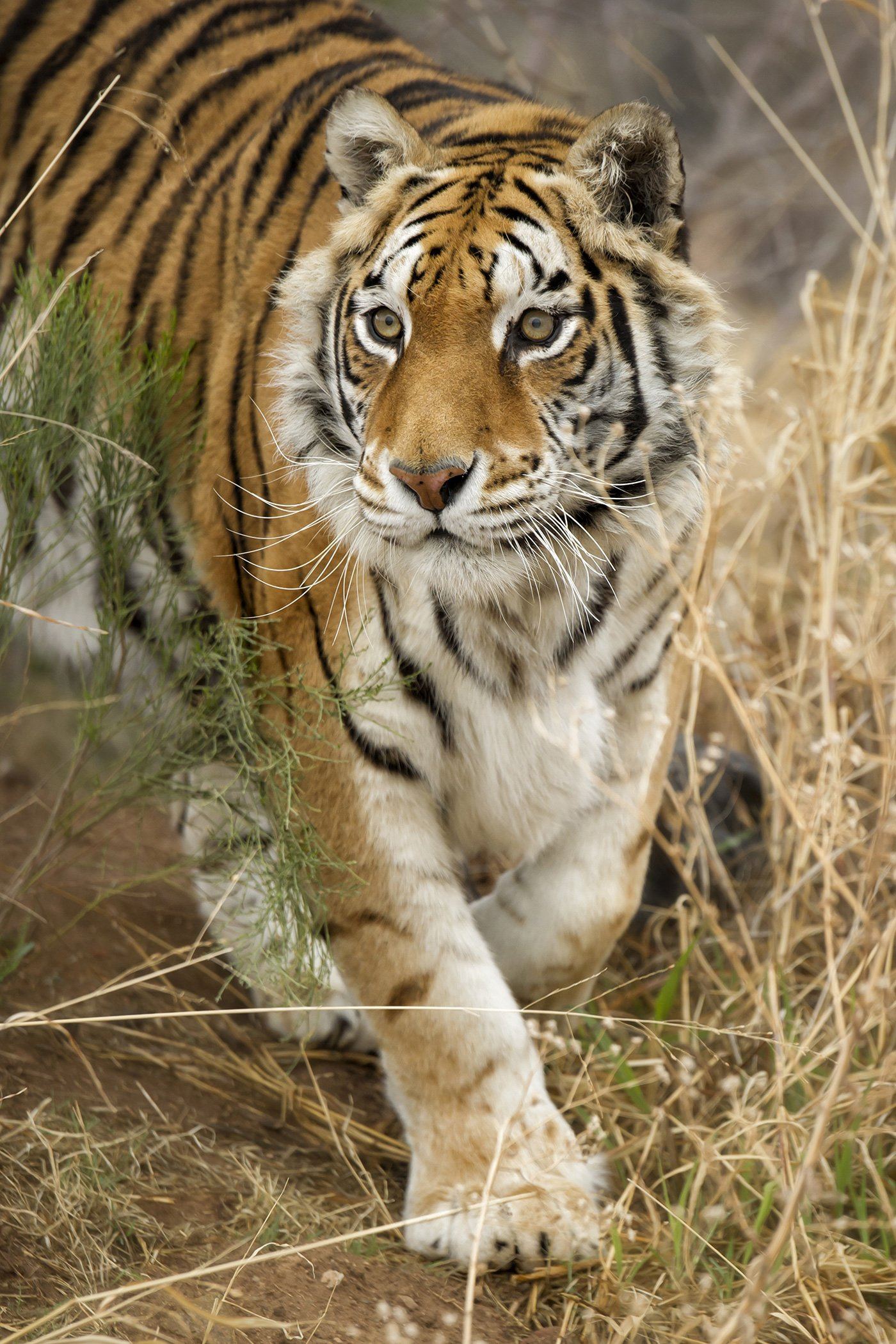 Plan Your Visit to OOA
Plan your awe-inspiring adventure today! See park hours and location and check out all the fun things we have to offer.
Learn More
Join our email list and be the first to hear about our special offers and travel deals.